Below are several EASY ways to help raise money for Raskob while doing what you already do – shop. Whether online or at a brick and mortar store the money you spend on groceries, at restaurants or other retailers can also support our students.

Sign up for eScrip. Support Raskob by registering your Safeway Club Card and debit/credit cards, and eScrip merchants will make contributions to Raskob based on your purchases–at no cost to you! The eScrip web site is extensive and has help with signing up as well as information about participating merchants, percentages of purchases that will be donated, and the privacy / security of your information. eScrip FAQ.
Select Raskob Day School or use our group #6556018. You can also find Raskob with the zip code 94619.
New eScrip members click here
Existing eScrip members click here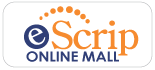 Once you are registered with eScrip, shop THROUGH the ONLINE MALL link on the eScrip home page. Instead of going directly to the website (i.e. Amazon, Apple Store, Apple iTunes, 1-800-FLOWERS, etc.), go to the eScrip Online Mall, find the store of your choice and shop away! Great for booking travel too.
Before you get started, there are a few things you should know:
By using the Online Mall, we earn up to 16% of your purchases from over 1,000 name brand merchants.
You shop from the same websites you know and trust and pay exactly the same price — you just need to originate your connection to the website from the Online Mall.
The specific items you buy are not recorded in any way, just the total you spent from each merchant so you can earn contributions for Raskob.
Be sure to visit the Online Mall first whenever you shop so we can earn every time.

Amazon Associates is Amazon's affiliate program. When you make a purchase using the Amazon search box below (so they know Raskob sent you), or click this Amazon link, a small portion goes to Raskob (at no cost to you!) You'll spend the same amount for products you'd buy anyway, and Amazon will give money to Raskob. To make it easy to remember, use this page as your Amazon bookmark.

Collect Boxtops for Education. They are on many products we buy — you just need to look. Cut them out and drop them into the box in the Raskob lobby.

By ordering your holiday See's Candy through Raskob you can not only have your candy but you can contribute to Raskob too! Be on the lookout for order forms as we approach the holiday season.
Questions about BoxTops, See's Candy and all other RPA fundraising? Contact VP of Fundraising.